How to Sell Art- that is the question!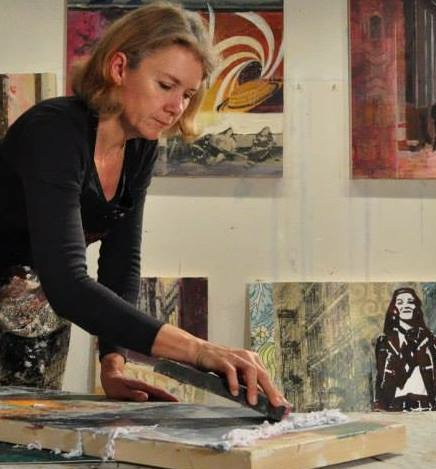 How the Creative process is effected by the Sale.
The ability to meet and see where my work ends up is critical to my creative process. The exchange I have with people who love my work in art fairs also plays a critical role. The dialogue and the conversation makes for important feedback thereby solidifying the thoughts behind the work.
I have been creating and selling my work since 1995. Seriously developing ideas behind the creative process seemed to mature about 10 years later. For those first 10 years I learned a great deal about what sold. This body of work was romantic and very traditional. Impressionist and full of texture, these pieces were just about learning about the paint. Stories delved into the European cafe culture and romantic connections. The business of art was about surviving and creating work that could pay the bills.
However, in the last 10 years, things have changed. Now, my art has a clearer idea about its goal. Therefore the understanding about memory and the creation of imagery that delves into this theme became the driving force. Consequently, the work increased in its depth. Its gotten deeper in both its message and the use of materials.Above all, I feel that I have a clearer understanding of the motives and direction of the voice.
Bringing the Art to Market is the most important part of the Business.
For many artists this is the biggest obstacle. Sure they can make fantastic work, but where do you exhibit? How do you find the person who will purchase the piece, hang it and look at it everyday?
With the advent of digital media the art can be spread out through social media. The artist has more power than every before. Much like musicians, artists can use Instagram and FB targeting to find the art collector. The biggest issue is how to use it effectively. Posting the images, finding followers are all part of the social media pressure. But the goal is to really connect.
The online approach is the most effective but the most mysterious. Apart from the social media having a website to purchase art online is critical. Without this online storefront, which I have with www.memoryartgirl.com,it is impossible to build the online experience. For many artists, who are not part of the Tech generation, this can be the greatest challenge. One that needs to be presented and taught in a simple manner. It's a big "levelling up" of skill set that is confronting many creatives.